Today I need to rant about something related to my all-time favourite TV show: South Park.
South Park is a great show, and I really appreciate that all their episodes can be watched in full on their website. I even accept that ads are shown at the beginning of each episode. They are trying out a new business model and I consider this a good thing. You have to try out stuff, even if it goes wrong.
Here's what's wrong with the South Park model.
Some time ago the US website for South Park was accessible from everywhere. There are nice features on it, like the SP avatar generator and a forum where fans can talk about the latest episodes. The forum is particularly interesting for non-native speakers because it's a place to learn about all the colloquial jokes that need the kind of cultural background you just don't acquire in other places, such as Europe.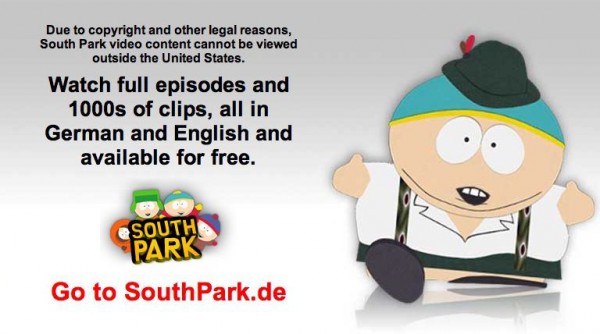 Some time later, South Park launched seperate websites in different countries, including one in Germany. At the same time the US page became unreachable from those countries. Fans were outraged: The German page offered the episodes only (and rather poorly) dubbed into German. (For those of you who don't believe me and know both languages, please compare the English and the German version of "Trapped in the Closet" or "The F-Word" for example. South Park might well be the TV show whose humor suffers the most through translating.) The protest worked: soon the original versions could be seen on the German website, too.
So everything is fine now? Not at all! This only resolved what was clearly the most striking consequence of a fundamentally flawed policy.
1) The first point is a general one: to restrain access to a website depending on where it is accessed from is censorship and violates the principle of "net neutrality". No business model in the world can justify giving some people access to information that others cannot reach. This it is not only censorship but also discrimination.
2) While the episodes can now be watched in the original, there is a very important feature of the US site that can not be replaced by the German one: the forum. Of course the German site also has a forum. On it, you can read what German users have to say about the German translations. For the real fan, this forum has no value at all. (Many jokes get lost in the translation, so how can you talk about them with people who don't even know they exist?)
3) Another feature that's gone now is the avatar creator, which US fans can (probably) still use – the German site simply doesn't offer this feature.
4) There is no international address. South Park loses one of the major advantages of offering full episodes on one's website: People can no longer link to episodes in a meaningful way. If I want to link to an episode (for example on this blog), I have to decide which local site to link to. Shall I opt for the US site – which I can not access, so I can't check if my link is working – and lead all my German readers into the digital desert? Or shall I use a German link, making it pointless to write in English – which I'm doing to reach an international audience? And which link am I supposed to provide for readers from all the other countries with a localised site, who can neither access the German nor the US version?
Here's a bonus problem unrelated to localization: all the websites require Flash, which some people call spyware – and not without reason. If you're into free software or you want to stay in control of what's going on with your computer, the episodes cannot be seen. At least for modern browsers, alternative formats that do not require proprietary plugins are available.
Especially folks like the makers of South Park (who I believe deserve to be called masters of cynical social critique) should not introduce such stupid policies. It was probably not Matt and Tray personally who came up with the genius plan to divide the online experience into localized compartments. Regardless who did it, this is embarrassing for someone representing South Park.
(Thanks to Sebastian Lisken @SebaLis for proofreading)